AT&T Stadium Seating Chart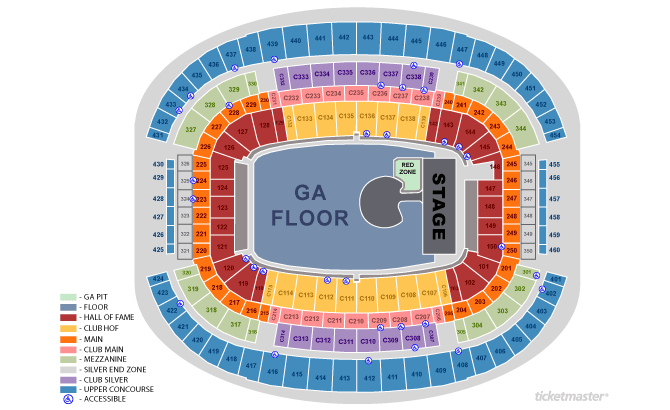 With a seating capacity of 80,000 the AT&T Stadium is one of the largest stadiums in the NFL. With standing room added, the maximum capacity of the stadium is a whopping 105,000 people!! The stadium space is spread out across 8 levels – the Event Level, the Main Concourse, the Mezzanine Level, the Potum Hall of Fame Level, the Ring of Honor Level, the Silver Level, the Star Level, and the Upper Concourse.
The AT&T Stadium is pleased to be able to provide wheelchair seating with excellent sightlines on all levels, together with accompanying seats for a companion. Please be aware however that AT&T Stadium personnel reserve the right to take appropriate legal action against individuals gaining access wheelchair and companion seats where they are not required.
For game day assistance and seating relocations, contact an event staff member or visit the nearest Guest Services Center located on the concourse behind sections 219, 244, 420 and 451.