AT&T Stadium | Arlington, Texas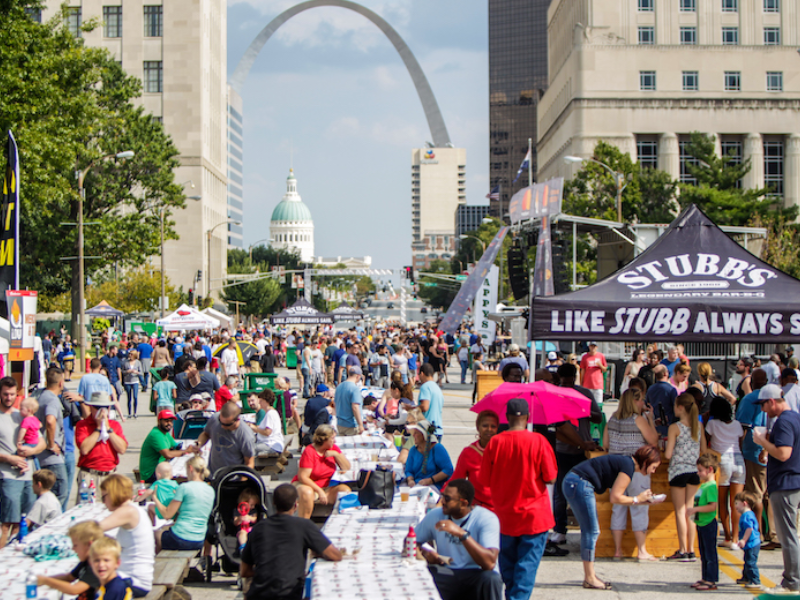 Smell that? That's the sweet scent of the Q BBQ Fest riding to the AT&T Stadium for its eighth year on October 7! Miller Lite and the Dallas Cowboys have wrangled the country's foremost BBQ event with the collaboration of Meat Church BBQ and Ole Hickory Pits. Over 30,000 lbs of premium-grade meats will hit the grill, feeding hordes of hungry guests with savory servings of brisket, pulled pork, and other barbecued delicacies! The festival will feature some of the hottest hands that hovered above coals, including chief smoker Quy Hoang of Blood Bros. BBQ and John Matthews of Pappy's Smokehouse. In addition to the delectable cuisine, Q BBQ Fest will host various family-friendly activities: LIVE concerts, BBQ talks, demos, eating contests, and meet and greets! Our venue will be the Miller LiteHouse–the 87,000 square-foot birthplace of Cowboy Gameday traditions at the AT&T Stadium. Tickets are out - grab your GA or VIP passes now for Q BBQ Fest this October in Dallas!
Q BBQ Fest is coming to Dallas this October 7 at the AT&T Stadium, inviting everyone for an adventurous weekend of mouth-watering BBQ, ice-cold drinks, and family-friendly entertainment!
Your Dallas Cowboys and the Miller Lite brand joined forces to bring America's BIGGEST barbecue festival here in the Lone Star State for its eighth annual outing. Put your taste buds to the test as 30,000 POUNDS of high-end meat smoke and sizzle under the Texan sky. Briskets. Ribs. Chicken. Pulled pork and SO. MUCH. MORE!
"Nobody knows barbecue like Texas, and we can't wait to host the finest cooks from across the country right here in our backyard. We're thrilled to bring this event to Arlington and can't think of a better fit for Miller Lite House to give local barbeque fans an immersive experience that they haven't gotten here yet," Cowboys chief operating officer Stephen Jones said in a statement.
Meat Church BBQ and Ole Hickory Pits proudly present this year's lineup of multi-awarded pitmasters from the country's most renowned BBQ restaurants.
Quy Hoang (Blood Bros. BBQ)
Chris Stuew & Andy Miller (Arthur Bryant's BBQ)
Lupe & Christina Nevarez (LaVaca BBQ)
Fasicka & Patrick Hicks (Smoke'N Ash)
Brandon Hurtado (Hurtado Barbecue)
David Hawthorne & Eric Hansen (Not Just Q)
Elias Vidal (Alice's Restaurant @ Treaty Oak Distillery)
Tim Scheer (Blues Hot BBQ)
Mike Perez (LORO Asian Smokehouse)
John Matthews & Brian Scoggins (Pappy's Smokehouse)
VIP ONLY
Al Frugoni (Live Fire Experience)
Live Fire Experience (Texas Original BBQ)
Alexandra Donnadio (Cooking with Zandge)
Lucas DeForest (Cook it Outside)
Daryl and Latrish Walker (Sweetie's BBQ)
DESSERTS
J. Arthur Garcia (Mexican Cowboy Chuck Wagon)
Now, don't get too lost in the food binge because Q BBQ Fest has a fantastic selection of other activities you can indulge in!
LIVE concerts from the local music scene's most exciting riffs and voices
BBQ demos from your favorite Pitmasters showcasing their no-holds-barred recipes and culinary inspirations
The Rib Rumble, a rib-eating competition to bring home the RIB CHAMP title!
And a meet and greet featuring Tony Ramirez (TFTI BBQ), Matt Groark (Groark Boys BBQ), Carlos Bradley (Smoke & Vine), Jeremy Yoder (Mad Scientist BBQ), and Marco Sanchez (Woodfire & Whiskey), in partnership with Embers.tv
The 2023 music lineups, activity schedules, and additional entertainment will be announced soon. Check back with us for the latest reveals!
The General Admission Pass opens THREE hours of all-you-can-eat BBQ, purchasable drinks, and access to the event's many activities.
Meanwhile, the VIP Pass offers FOUR hours of these PLUS all-you-can-drink beer and cocktails, with exclusive access to the Cowboys Locker Room, Live Fire Experience, and VIP-only pitmasters and lounge area.
Worried about where to park? Don't be! Both passes include FREE parking near the festival area. Just focus on the smell and follow your nose into a land of savory, smoky goodness.
So, how's our pitch? Come on down and have a beer with us at the AT&T Stadium's Miller Lite®House! The Q BBQ Fest - Dallas starts on Saturday, October 7. Get your tickets now, and remember, kids 13 and under get FREE entry!